Emergency Tree Service
is not something people plan on needing. This is why it is so important to select a trained, experienced, insured company to handle your
emergency tree service
needs in Victoria, BC.
In the winter storm season it is always a good idea to have trees inspected to ensure that their structure or stability has not been compromised. Saturated soil conditions and high winds are typical factors of winter storms and can cause tree roots to give-way and branches to weaken.
Emergency tree removal
information. Property damage during severe weather can occur when limbs or trees fall.
Not surprisingly the 'evergreen' trees that retain foliage in winter such as conifers (and certain oaks) are the highest risk for failure because the foliage adds weight and wind resistance. We recommend pre-storm strategies to identify potentially hazardous conditions as well as taking steps ahead of time to reduce the risk of damage before harsh weather occurs.
Book a consultation to have your property and trees assessed by an ISA certified arborist.
Text or Call Scotty Tree and Arborist Today 250 220 9298.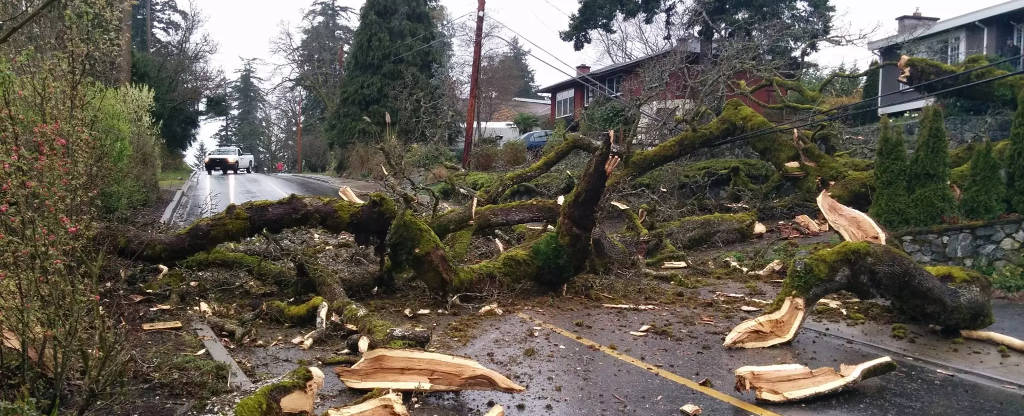 As Climate Changes continue our weather continues to change. Storms are becoming more severe than we have ever experienced, droughts are hotter, dryer and the weather is more extreme overall. As a result of these weather changes, our trees are dying or becoming damaged or failing.
Storm and Weather Related Tree Damage Considerations- Property-Owner tips:
Whose tree is it? Public or private? Is it a protected tree under Tree Preservation Bylaw? (We can help with these questions)

Contacting your homeowner's insurance company is probably one of the first tasks a person should do.

Take photos of the storm damage and document what property structures were affected for insurance purposes.

Think safety before pruning or removing trees. If you need a ladder or a chain saw you should contact an arborist (a reputable, certified and credible tree care professional (arborist) who has the equipment and skill to do the clean up.

Is at least half of the tree undamaged? A tree with less than 50% of its foliage remaining may not be able to sustain itself in the future.

Use the International Society of Arboriculture (ISA) website to find an ISA certified arborist in your area.

 Trees have amazing recovery capacity, so if it has not experienced major structural damage, it will probably recover.Other than the obvious damage, is the tree generally healthy?

Are major limbs or the main leader broken? The larger or more important the limb, the harder it will be for the tree to recover.

Are there any downed lines? Be aware of any power lines or hanging limbs. Extreme care must be taken around trees and limbs that may have become entangled in utility lines during a storm or other event.  When in contact with live utility wires, trees carry electricity and are potentially very dangerous.  For safety's sake, call 1-888-POWERON (1-888-769-3766) if you believe that any part of your trees may be in contact with utility lines.  Please refer to BC Hydro's Electrical Safety page at  http://www.bchydro.com/safety-outages/safety/electrical-safety.html

How large are the wounds? The larger the wound, the less likely the tree can recover and be structurally sound. Very large wounds invite insect infestations and decay.

Don't stand under trees that have broken branches that look like they're ready to fall. If the work is high in the tree, or involves large branches, it's a job for a professional arborist.
An ISA certified arborist can inspect your property for issues that could predispose trees to failure. This could include a climbing inspection or an analysis of decay that may be present in the branches, stems, or roots.
Based on what is found, appropriate treatments can help trees and shrubs better endure weather events. When there is an issue with the tree's structure, installation of cables or braces can help the tree's ability to withstand high winds. Pruning can also help with this and it is essential for removing any dead or hanging limbs that may pose a threat. Lightning protection is another alternative for high-value trees or those close to structures.