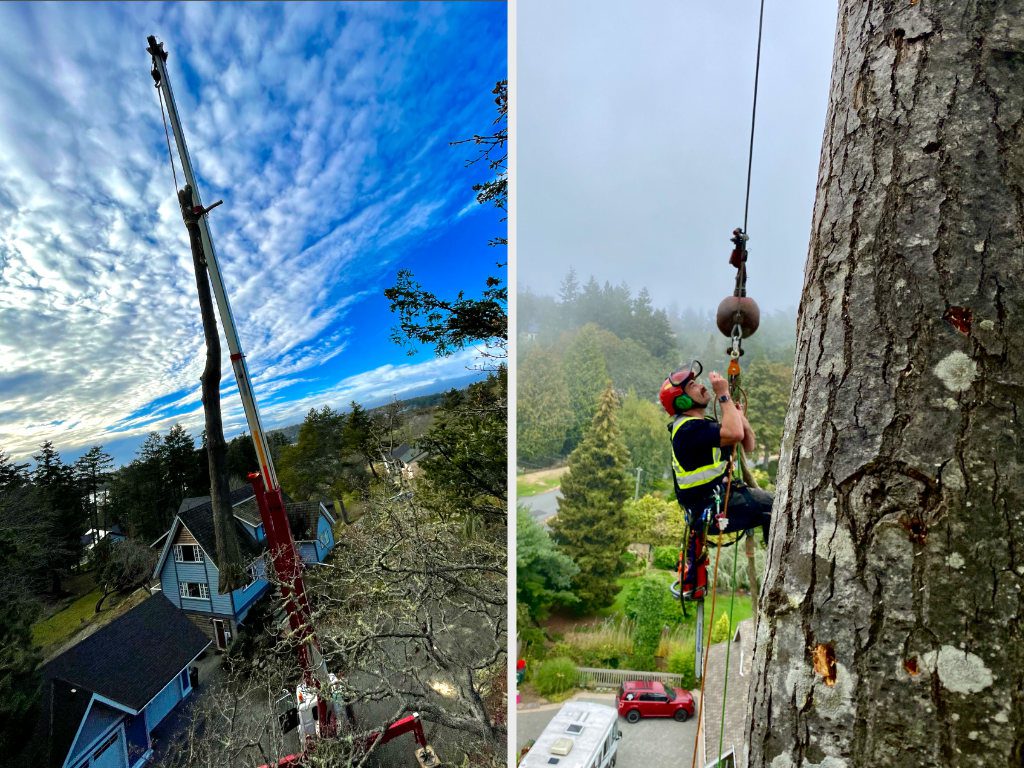 Trees are a necessary part of our ecosystem here in Victoria and surrounding areas. They are beautiful to look at, but when they pose a threat to public safety or become an eyesore due to age, they often need to be removed:
Large or Hazardous Tree Removal:
Before deciding whether a tree needs to be removed, an arborist needs to evaluate the area and pre-determine what type of damage would be caused if the tree fell. Only tree experts who are licensed professionals should make these types of determinations, to ensure that all related factors are addressed in a safe and sustainable way.
Our arborists are equipped with the latest tools and are especially outfitted and trained to remove trees of any size or dimension. Read more about storm damaged trees.
Power Line Safety:
Trees that have been assessed for removal due to their proximity to dangerous power lines need to be handled by professionals.  Our staff of highly trained arborists have years of tree service experience and take extra care to prepare and secure the area before, during and after the tree removal. You can be confident that we will manage your tree removal using the safest and most efficient methods available.
Landscape Aesthetics:
A true tree removal involves eliminating the stump. Left behind, it can devalue the property's visual appeal.  We use a method that completely removes the stump and grinds it beyond ground level so the space where the tree once stood can be used again. After a removal, you can use soil, sod or cement to cover the area as you see fit.
Book a consultation to have your property and trees assessed by an ISA certified arborist.
Text or Call Scotty Tree and Arborist Today 250 220 9298.