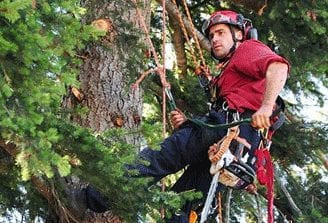 Contact Scotty Tree & Arborist for all of your tree service requirements. Scott Mitchell, ISA-trained arborist and owner of Scotty Tree & Arborist Service, draws on 13 years of experience with the Ministry of Forests, where he worked as a hazardous-tree-removal instructor. Scott also keeps informed by attending arborist conferences and gives lectures on tree and garden care to the community.
At each home, Scott and his crew offer a variety of tree services, including consultation, tree trimming, large tree removal, stump grinding, and diagnosing and treating tree issues, such as infestations or disease. 
Scotty Tree & Arborist is 100% locally owned
and operated. 
Scott can often provide basic cost information and answer questions over the phone and will usually schedule a site visit for a closer look if required. 
You can text photos of the Trees in Question to 250 220 9298. Photos can make it much easier to understand the scope of the work.
Qualifications and Certifications:
There is a significant amount of knowledge required to perform tree care at the highest level. Our ISA Credentials show that we are knowledgable and experienced tree care professionals who are committed to properly caring for and maintaining your trees. 
Some tree failures are unpredictable; however, most can be prevented by adequately inspecting your property for red flags. It's especially important to check your trees before and after storms and large snowfall. Large trees are more likely to be hazardous than smaller trees.
Serving Victoria B.C. and Surrounding areas.
Ethical, Professional Tree Services at a Reasonable Price Every Time.
Book a consultation to have your property and trees assessed by an ISA certified arborist.