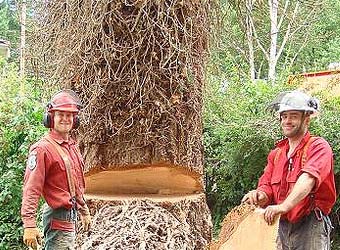 When a tree is cut down and removed the stump should be as well, as leaving it behind can make your property look untidy.
Stump Removal / Stump Grinding
A tree stump is removed with a process called "stump grinding," which eradicates the remainder of the tree at the below ground level. This allows the ground area to be transformed using soil, sod, concrete or other materials. For tree removal resources click here.
How It's Done:
A Stump Grinder machine is used to remove the stump in a quick, efficient manner and can also be used in tough to get to areas.
Ongoing Care & Maintenance:
The roots of a tree stop growing when it's cut down and it can take days or weeks for the roots to die. There are tree types though that can develop seedlings or sprouts, which generate new stems from the root. If the sprouts continue to grow, they can cultivate the growth and survival of the tree that was removed. The sprouts should be cut as soon as they develop and removed continuously as they grow back. This maintenance will result in the final death of the tree root over a few months or the process can take up to a full year.
---
Text or Call Scotty Tree and Arborist Today 250 220 9298.