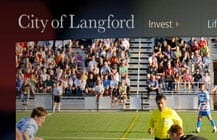 The City of Langford controls the cutting of trees and the removal of vegetation in designated environmentally sensitive and hazardous Development Permit areas contained within Langford's Official Community Plan.
The City of Langford does offer some exemptions from this requirement, particularly where a tree is dead, diseased and dying, or a hazard to human safety or property. In most cases the City will require a report from a certified arborist before providing a letter of specific exemption from the requirements of a Development Permit. In addition, the City may require a report prepared by a Registered Professional Biologist before issuing a Development Permit in areas of environmental sensitivity (e.g.: areas around lakes and streams, identified sensitive ecosystems, and areas of potential wildlife habitat and biodiversity).
City of Langford Tree Removal Resources
Consulting Arborist Services
Book a consultation to have your property and trees assessed by an ISA certified arborist. Call Scott – (250) 220-9298
My qualifications include:
Hazard tree and wildlife tree certification.

Certified with the current WCB BC danger tree assessment program.

Extensive training in high angle technical rope rescues

First responder level of first aid

Consistently attend arborist conferences. I share this information by giving lectures in the community on tree and garden care.
Our Promise
We will provide you with the best and most current arboriculture practices.

We will explain any work that we quote on.

We give the best rates every time for everyone.
Services Offered
Consulting

Diagnostics

Expert Witness and Litigation

Fertilization

Holiday Light Installation

Inventories

Pest Management

Pruning

Removal

Stump Grinding

Training and Education

Transplanting

Tree Planting

Tree Protection

Tree Risk Assessment

Tree Valuation