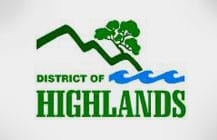 Highlands Tree Bylaws and Permits Links and Resources
The District of Highlands Tree Bylaws and Permits can be viewed and obtained from their website, or in the list below.
District of Highlands website: https://www.highlands.ca/
Do I need a permit to cut down trees on my property? A tree cutting permit is necessary if the trees are within 10 meters of a lot line, or within 20 meters of a lot line the is adjacent or abutting a road, trail or right-of-way. If the trees are situated within a Development Permit Area, (within 30 meters of a steep slope, wetland or sensitive ecosystem) or are a protected tree species a permit is needed.
Tree Cutting Bylaw: DISTRICT OF HIGHLANDS BYLAW NO. 10 (pdf)
Tree Cutting Permit: DISTRICT OF HIGHLANDS Application for Tree Cutting Permit
We work with homeowners, contractors, property managers, and municipal agencies to assess and plan: development, determine the level of risk, and scope of work to gain appropriate permissions and undertake tree service work to remediate and protect your tree assets. The District of Highlands Tree Bylaws apply to your home or property, We can help you get the job done right.

Want to hear what others say?
Read our Scotty Tree & Arborist Google Reviews. 
---
Book a consultation to have your property and trees assessed by an ISA certified arborist.
Text or Call Scotty Tree and Arborist Today 250 220 9298.